Framing Your Art
May 02, 2020
Yes, it's true. I sell my paintings — on canvas and on paper — unframed, even though I show in-room photos of my art framed. Why? Why do I "frame" my paintings photographically, but sell them unframed?
The most important reason is this: You are purchasing one-of-a-kind art. I view a frame as a commodity, a display item. While it may enhance the final finish, there are four good reasons for me as the artist not to offer my paintings framed.
Art substrate. Paintings on canvas and paper have different framing requirements. While a canvas painting can remain unframed, a painting on paper requires protection (even when varnished). An acrylic covering (not glass) is recommended (clear or non-glare), and the work can be float-mounted or matted. (FYI - a basic DIY black frame with non-glare acrylic cover from an online resource runs less than $100 for a 22" x 30" painting on paper).
Framing options. There are an overwhelming number of choices to make when selecting a frame for artwork. The primary options to consider are type of frame (floater or standard); frame material (wood/metal), color and width; mat selection, color and width; glass or acrylic (or none). These are choices that the new owner should have the benefit of making.
Display location. The location of the painting will influence the type, size and color of the frame as well as the matting width based on whether the artwork will complement the space or be the interior focal point.
Cost. As the artist, I frequently frame (temporarily) my art on paper for exhibitions. My primary consideration is cost — the painting needs to meet exhibition requirements, look good, but be inexpensive. For my customers, I don't want to increase the price of the art by factoring in a commodity item — the frame. It is an expense that is (in my opinion and experience) unnecessary — I find that most customers want to think about the frame once they see it in place, or already have a frame in mind.
Then why do I show in-room photos of my paintings framed? Because I want potential new owners to imagine my art as they will live with it. Most likely, that will be framed. And that's why I leave the framing options to the soon-to-be owner, knowing she/he will create the perfect "look" for their living space.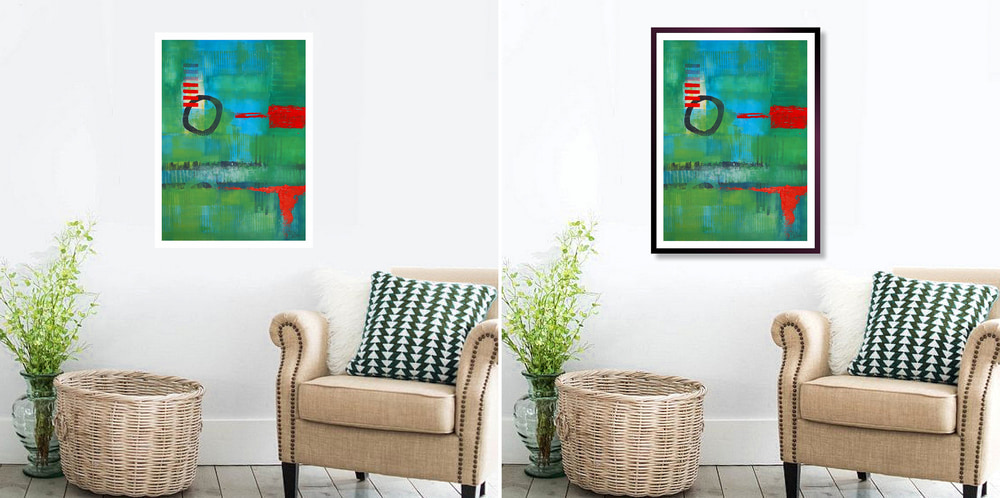 But do paintings on canvas have to be framed? No! If you're happy with the look of a canvas painting without a frame, that's great! Canvas paintings are stretched on wooden frames; they have a structural shape that is protective. I personally paint on 1.5-inch wide canvas and finish the edges by painting them in white or a complementary color. The painting and edges are double-varnished for UV and physical protection. It is signed, dated and titled on the back and wired for hanging. Ready to go!
Paintings on paper, however, need added protection. While I use only 300 lb (640 gsm) heavy watercolor paper that I prime on both sides and finally varnish (front and back), artwork on paper should receive extra care. There are a variety of options for framing and covering (acrylic or glass) paper art depending on whether you want to flat mat, shadowbox or float-mount the art on paper to show the edges.
What are your recommendations? My first recommendation is to go with a local source you already have. This gives you the chance to see framing options firsthand and get professional recommendations. This hold true for paintings on canvas and on paper.
If you are confident in your measuring prowess and know the final presentation you want to achieve, the "DIY" approach is an option. Here are two online sources for your review and personal choice.